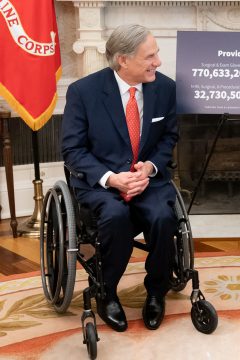 Among others, Click2Houston.com (KPRC-DT) recently reported on the statements of our Texas governor, Greg Abbott, regarding the shooting of five people in a house in Cleveland, Texas. The official press release that our governor released used dehumanizing language, and I quote:
Governor Greg Abbott today announced a $50,000 reward for a Texas Department of Public Safety (DPS) top 10 fugitive who is in the country illegally and killed five illegal immigrants in a shooting Friday night in Cleveland, Texas.
Over the years, there have been many moments where I was embarrassed to be a Texan. This is one such moment. Mr. Abbott speaks for himself and his personal viewpoint when he chooses to emphasize the immigration status of the shooting victims. It is patently obscene and devoid of decency to dehumanize those who have lost their lives in a tragedy like this.
To me, it doesn't matter who actually wrote this. This is an official Texas government press release and the ultimate responsibility for the language used goes back to Mr. Abbott. Though I consider it far more likely than not that Mr. Abbott himself chose the language to use in this press release, he's still responsible for it if that's not the case.
What's even worse, quoting the Click2Houston story, is that he only apologized for the error in fact when it turns out at least one of the victims was in fact in the country illegally:
"We've since learned that at least one of the victims may have been in the United States legally," Abbott spokesperson Renae Eze said in the statement. "We regret if the information was incorrect and detracted from the important goal of finding and arresting the criminal."
Better news comes later in the story:
Authorities have said the victims were all from Honduras but have not disclosed their immigration status. The local county sheriff, Greg Capers of San Jacinto County, said Sunday that he did not care about the victims' immigration status and felt a duty to protect everyone in his county.
This is refreshing, especially since I am pretty sure San Jacinto County is a red (conservative-/Republican-leaning) county. This is the way it should be: human beings are a human beings and all have the same right to be safe and protected by law enforcement.
It's an open secret that our immigration policies are broken and a lot of people in the country without documentation have crossed the border out of desperation. They come to the United States in the hope of finding a better life and being treated with compassion and dignity. My disappointment with our government goes far beyond just Mr. Abbott and a press release, though certainly that line in the press release is one of the more egregious failures of our government to treat people like human beings.
I used to wonder why some people hate the US so much. And now I've seen some of it. And honestly, it's hard to blame them.