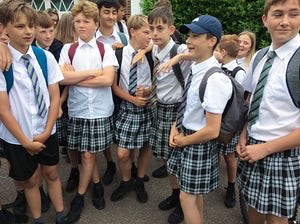 According to this recent story in The Guardian, some students at a school in Exeter (Devon, England) were fed up with having to wear trousers to school during a recent summer heat wave. From the story:
As the temperature soared past 30°C [86°F] earlier this week, the teenage boys had asked their teachers if they could swap their long trousers for shorts. They were told no – shorts weren't permitted under the school's uniform policy.

When they protested that the girls were allowed bare legs, the school – no doubt joking – said the boys were free to wear skirts too if they chose. So on Wednesday, a handful braved the giggles and did so. The scale of the rebellion increased on Thurday, when at least 30 boys opted for the attire.
But it gets even better:
A third, tall boy said he was told his short skirt exposed too much hairy leg. Some of the boys visited a shop on their way to Isca – the name the Romans gave to Exeter – to pick up razors to make sure they did not fall foul of any beauty police.
Down here in Houston, the same temperature is about what we would expect in April or May. By June, we are looking at temperatures in the 95°F range (35°C) most years, and it's not uncommon to have at least a few days at or above 100°F (38°C). As I remember it, when I was in school we were allowed to change out into shorts for physical education classes, but most of the time we spent indoors in air-conditioned buildings so shorts just weren't necessary. Apparently things are different up there in Exeter.
And with that, I admire the creativity of this group of boys as well as their willingness to cast aside the somewhat arbitrary gender labels we as a society have placed on a particular item of clothing. To be honest, the only thing more absurd than not allowing boys to wear shorts yet allowing them to wear skirts, is the attachment of such an arbitrary gender label to skirts. The only real difference between shorts and a skirt is the flap down the middle making two separate pant legs. The odd thing is that like many things in fashion, women making the opposite crossover and wearing shorts get little to no ridicule at all.
That said, some progress in this aera of fashion inequality is being made. Utilikilts opened up shop in 2000 and is still in business today. Granted, the least expensive offering is US$200 as of this writing, possibly due to (lack of) economy of scale. While what Utilikilts is doing is admirable, it's going to take more companies and suppliers entering the game to make some real change.