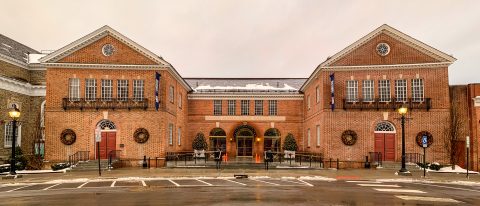 So the votes are in for the 2022 Baseball Hall of Fame, as reported by CBS Sports among many others. David Ortiz is in. Most of us Astros fans will know David Ortiz as the player turned sportscaster who famously opened a suitcase full of symbolic cash money this past World Series saying "pay the man", referring to Carlos Correa's upcoming contract expiration.
Roger Clemens, a very familiar name and face to Astros fans as he played for our team for three years (2004-2006), didn't make the vote on his last year of eligibility, presumably because his name is in the Mitchell Report. Barry Bonds, who broke many MLB records during his time as a player, including most career home runs, most home runs in a single season, and most career walks, also didn't get in during his final eligible year. Curt Schilling, remembered as much for the bloody sock as much as his great pitching, also failed to get the vote, and this was his final year of eligibility also.
The Baseball Writers' Association of America (BBWAA), in snubbing Roger, Barry, and Curt, seems to be making a statement here. None of these players were ever disciplined by MLB for performance-enhancing drug (PED) use. But the mere suspicions and implications that these three players may used PEDs or otherwise furthered the use of PEDs by others is apparently enough to keep them out of the Hall of Fame, at least via the BBWAA vote. (Players who the BBWAA does not vote in while they are eligible, are still eligible for induction by a vote of the Today's Game Committee.)
It's a tricky subject. I despise cheating, in whatever form it may materialize. Yet it's really hard to call a lot of the PED use cheating per se, when a lot of players used PEDs (including steroids) just to keep up and stay competitive. In 2022, yes, PED use is cheating. The current leadership of MLB has no tolerance for it. Players who get caught face a lengthy suspension even for a first offense (50 games). The suspensions only get longer for repeat offenders, as they should. Steroids in particular are dangerous, and it sends entirely the wrong messages to players as young as high-school age when the players in the big leagues use PEDs. I don't want the kids feeling like they have to use drugs to win at baseball. One Ken Caminiti is one too many.
Is it still fair to judge players of the 1990s and early 2000s, prior to the Mitchell Report, by the same standards? Enforcement of any PED bans in place was very lax. Yes, there were a lot of "household names" in the Mitchell Report. The reality is, the records set by Barry Bonds haven't been vacated.
Would Barry Bonds, Roger Clemens, and Curt Schilling been great players even without PEDs? I think it's more likely than not. Would they have been Hall of Fame caliber? Would they have made the Hall of Fame, all other things being equal, if there was no Mitchell Report and no PED scandal? I'm certain of it, at least at some point during their 10 year eligibility period for the BBWAA vote if not the first three years.
I'm not happy about the PED scandal that led to the Mitchell Report. I tuned out of baseball for a while because of it. We can't forget about it, but we shouldn't further penalize the players who were just doing what was normal at the time. By this logic, Burleigh Grimes and the other spitballers shouldn't be in the Hall of Fame, either. And I know that would outrage a lot of old-time baseball fans if that came to pass.