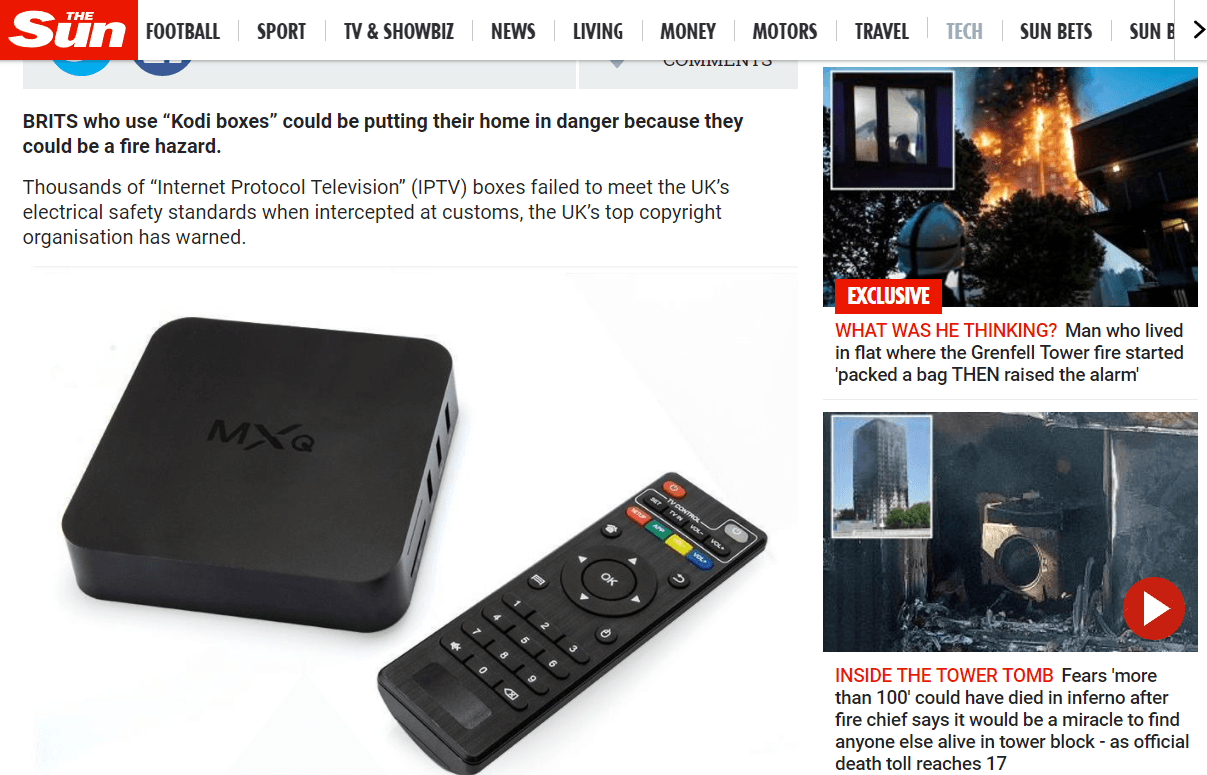 Not too long after the fire in Grenfell Tower in London, some sensationalist news articles appeared according to this TorrentFreak story. According to that story, The Sun declared some Kodi boxes to be a fire hazard, implying that a huge number of them failed electrical standards testing. Or, so they would have you believe…
From the article:
On Thursday, however, The Sun took a short break to put out yet another sensationalized story about Kodi. Given the week's events, it was bound to raise eyebrows.

"HOT GOODS: Kodi boxes are a fire hazard because thousands of IPTV devices nabbed by customs 'failed UK electrical standards'," the headline reads.
The story goes on to mention that FACT (the UK's Federation Against Copyright Theft–note the use of a clearly loaded word in the name of the organization) had somehow found two parcels of 2,000 boxes–a total of 4,000 units–which they would find "failed electrical safety standards." FACT is not a government organization and does not have the power to seize property the way that, say, the Police Intellectual Property Crime Unit (again, note the loaded words) would be able to.
It should be transparent what FACT is trying to do here. They want people to give into the copyright cartels using any means they have available. That may be getting in the middle of sales of Kodi boxes or similar devices, or trying to convince their users that using questionable means of watching TV shows could cause a fire. Right after a major fire makes the news, of course.
Sure, that's just a bizarre coincidence, isn't it? I would think if the Grenfell Tower fire didn't happen, we'd have never heard about this. All of a sudden, with a major fire making the news, FACT is trying to convince people that a bunch of electronics are a fire hazard. I think if this was a legitimate story, we'd have an actual UK government agency making the report and highlighting the consumer safety angle. This is what we in the computing industry call FUD–Fear, Uncertainty, and Doubt–and it's absolutely shameful for the copyright cartel to exploit a tragedy the way FACT has. To say the least, it really burns me up (forgive me for the unfortunate pun).
As TorrentFreak points out:
However, it's difficult to offer congratulations on the PSA when the story as it appears in The Sun does nothing – absolutely nothing – to help people stay safe.
I couldn't agree more. Conveniently, not too long after publication, The Sun edited their article according to TorrentFreak. Still, the fact staff at The Sun were all too willing to be FACT's unpaid PR team speaks volumes, as does FACT's attempt to "pull one over" on the public. The irony of an organization called FACT stretching the truth is not lost on me.