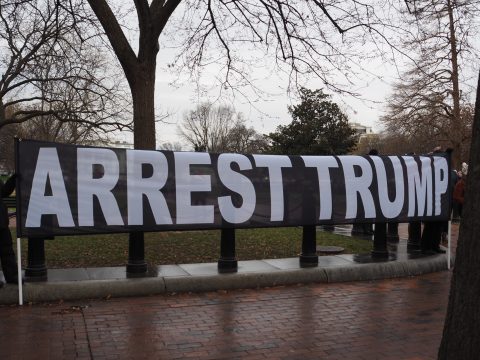 In lieu of the usual link to a given news source for this, I'm instead going to link to the Wikipedia article "Indictment of Donald Trump" for reference. It is becoming more difficult to find news sources that don't appear to be biased one way or the other.
In the past few days, we have finally seen the arrest and indictment of our former president (who I really don't think is worthy of the title, but that's another story). The charges are 34 felony counts of falsifying business records, each with a possible four-year sentence to be served consecutively, for a total of 136 years. From the Wikipedia article:
On March 30, 2023, Donald Trump, the president of the United States from 2017 to 2021, was indicted by a Manhattan grand jury for his alleged role in a scandal stemming from hush money payments made to the pornographic film actress Stormy Daniels prior to the 2016 U.S. presidential election,[2][3][4] making him the first U.S. president to be indicted.[5][6][7] Trump faces 34 charges of falsifying business records in the first degree.[8][9][10] In New York, falsifying business records is a misdemeanor, but can become a felony if done to further another crime.[11] The indictment raises novel and complex legal issues.[12][13]
While I believe it is unfortunate that an indictment of a former president was necessary, it is a relief to see that some government, somewhere, is finally willing to make a statement that nobody is above the law.
For the entire four-year term, and clearly for worse, Mr. Trump ran his presidency with the attitude that he was above the rules. With the New York indictment and the ongoing Georgia and federal investigations, it is finally coming to light just how far above the law Mr. Trump was willing to go.
I know in years past I have often been critical of certain actions by law enforcement and our court system. The reality is that when the laws are enforced equally and fairly and judges make reasonable decisions, I don't have any issues. Some of the more prominent examples of law enforcement not acting in such a fashion, from past posts, would be when they shoot innocent dogs (and again a couple of years prior) and running a questionable crosswalk enforcement trap.
I don't think the arrest and indictment of Mr. Trump falls into the category of a law enforcement screw-up. This is our legal system doing its job. This doesn't mean Mr. Trump is guilty just yet; he is entitled to the same due process of law as the rest of us. Unfortunately, the next in-person hearing is not until December 4, meaning this will be anything but a speedy trial (though there is no guarantee it will go to trial, it is definitely expected).
Perhaps due to his high profile and the lack of likelihood he will become a fugitive, Mr. Trump was allowed to return to Florida right after the hearing. Due to bail reforms in New York (state), he was probably not required to post a bail bond, for better or worse. (The nice part about this is some of the conservatives might shut up about bail reform for a while.) Usually bail bond companies will require a defendant released on bond to call and/or sign in at the office periodically (often once per week). I'm not that worried about Mr. Trump as a flight risk, though some conditions should have been imposed on his pretrial release, as the events of 2021 January 6 have shown that he can be quite dangerous.
He was fingerprinted but no mugshot was taken; to be fair, I think we all know what he looks like by now. Again, I would suspect the mugshot to be another safeguard against a potential escape; however, I do think it would have helped send a clear message to Mr. Trump to have a mugshot taken that yes, we as a society are treating you like a criminal, former president or not. Fingerprints alone may or may not have accomplished this, as these days fingerprinting is also used for identification for professional licenses.
In summary, while this is an unfortunate chapter in American history in many respects, I fully support the district attorneys and court system in New York state in this effort, and believe the world will be a better place as a result of due process of law in this matter, including the trial.